For marketers, one of the most significant differences between B2B and B2C is the gross global merchandise volume. According to Shopify, B2B has a 257.4 percent larger ecommerce market than B2C. Combine that with an average order value more than double that of B2C, and the importance of generating B2B leads becomes clear: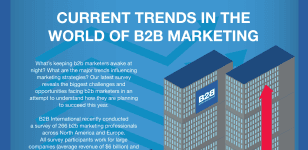 1. Widened Distribution Span
B2 B's marketing strategy enables businesses to stretch their reach and bring more customers under its jurisdiction. They don't have to restrict themselves from venturing out to the corners of the world. Using the internet, they can reach all kinds of customers without any issue.
2. Reduced Cost of Products and Services
B2B strategy requires businesses to get to know the interests and needs of the client they are going to target. This increases the investment volume to a large extent. In addition, businesses must know their local suppliers and their customers. For this, interviews or surveys can be conducted.
3. Zero-Cost Marketing Techniques
Advertising now has moved beyond television and newspapers. With the help of the internet, you can target your audience worldwide. This is the age of innovation and creativity, so you need to make sure that the content is catchy. Advertising on social media platforms is the entire game.
4. Creates Space for Innovation
With e-commerce, businesses can market their products or services in a wide variety of ways. It further allows them to maintain a stable and sound market image. Virtual banking, online shopping, online business transactions, etc., all get eased up due to e-commerce.
5. Lower Operating Cost
Initially, the operating costs are way too high. Using new technologies, advertising, product or service expansion, etc., require vast amounts of investments to be made. In the short run, it may be expensive, but the benefits that the businesses get in the long haul outweigh the costs.
What Is B2B Marketing?
As always, we must be clear about our definitions. What are business-to-business markets and what is B2B marketing? To answer these questions it is useful to consider the value chain that starts with a consumer demand and from which dozens of business products or services are required. Take the example of the simple shirts that we buy. They do not arrive in the shops by accident. There is a value chain of enormous complexity that begins with cotton or some other fibre that must then be woven into cloth, which in turn is machined into a garment, packed and distributed through various levels until finally we pick it from the shelf. This is illustrated in the diagram below. We call this the chain of derived demand since everything to the left hand of the shirt is pulled through as a result of the demand for the product. Businesses sell cotton to merchants who sell it to spinners who sell it to weavers who sell it to garment makers and so on. None of the businesses buy the products for pure indulgence. They buy them with the ultimate aim of adding value in order that they can move the products down the chain until they finally reach us, the general public.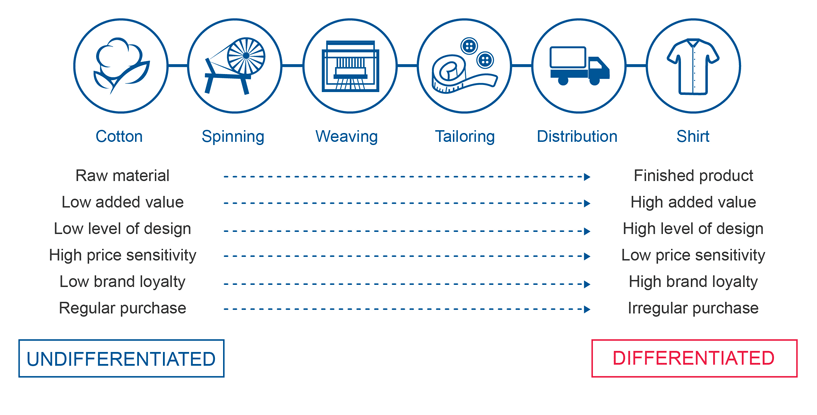 B2B marketing is therefore about meeting the needs of other businesses, though ultimately the demand for the products made by these businesses is likely to be driven by consumers in their homes.
Businesses buy products with the aim of adding value in order to move the products down the chain until they finally reach the general public.
10 Reasons Why B2B Marketing is Special and Different to Consumer Markets
1. B2B Markets Have A More Complex Decision-Making Unit
In most households, even the most complex of decisions is confined to the small family unit while items such as clothes, food and cigarettes usually involve just one person. The decision making unit (DMU) in business-to-business markets is highly complex or at least it has the potential to be so.
Ordering products of low value and low risk (such as the ubiquitous paper clip) may well be the responsibility of the office junior. However, the purchase of a new plant that is vital to a business may involve a large team who makes their decision over a protracted period. The DMU at any one time is often ephemeral – specialists enter and leave to make their different contributions and, of course, over time people leave the company or change jobs far more frequently than they change family unit.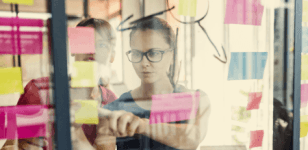 This complexity and dynamism has implications for business-to-business markets. The target audiences for B2B communications are amorphous, made up of groups of constantly changing individuals with different interests and motivations. Buyers seek a good financial deal. Production managers want high throughput. Health and safety executives want low risk. And those are just their simple, functional needs. Each person who is party to the DMU will also bring their psychological and cultural baggage to the decision and this can create interesting variations to the selection of products and suppliers.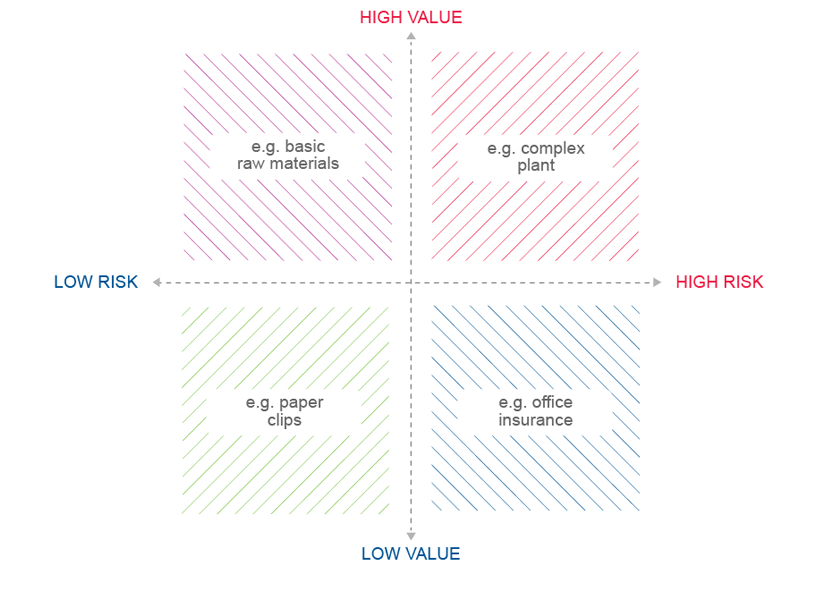 Figure 2 above divides business-to-business purchases into four categories according to their financial value and the level of business risk associated with the purchase. Each of these categories gives rise to different purchasing behavior and different complexities.
Low-risk, low-value purchases are the least distinct from consumer purchases. They often involve just one, frequently junior person. There is little financial or business risk involved on getting the decision wrong, meaning that relatively little thought goes into the decision.
Low-risk, high-value items such as raw materials typically involve a mixture of technical and purchasing personnel, and often very senior people such as board members. This complexity is necessary to ensure that price is minimized without impacting upon quality. Purchasing personnel would usually be the key decision makers on a transaction-by-transaction basis, under the general guidance of more technical employees, who would review suppliers periodically.
Low-value, high-risk items such as office insurance would similarly involve a mixture of specialists and purchasers. As the 'risk' is in the product rather than the price, and as each transaction is likely to be unique, an expert (in this case perhaps an in-house legal expert) would tend to be the key decision maker every time a purchase takes place.
High-value, high-risk purchases are the most distinct from consumer purchases, with a large number of senior decision makers evaluating a large range of purchase criteria. In the case of plant equipment, we might expect a CFO, R&D Director, Production Director, Purchasing Director, Head of Legal Department, CEO and a number of upper-management department heads to be involved.
Faced with a multifaceted and knowledgeable buyer, it is critical that the B2B marketer demonstrates a high level of expertise in all of its interactions with the target audience. This refers not only to product knowledge, but also to the technical and other back-up that the buyer will receive throughout the life of the purchase.
Business-to-business marketers need to fully understand the different needs of decision makers – often within the same customer.
2. B2B Buyers Are More "Rational"
The description of business-to-business buyers as more 'rational' than their consumer counterparts is perhaps controversial, but we believe true. We may not leave our emotions at home when we go to work, but most of us attach them to a tight leash and try to keep them away from our colleagues.
Would the consumer who pays $3,000 for a leather jacket that is less warm and durable than its $200 counterpart in the shop next door make a similar decision in the workplace? What about the person who spends 800,000 for a season ticket at a football club that has just been relegated and frustrates them every Saturday, or $6.50 on a packet of cigarettes that excludes them from indoor public places and puts them at risk of serious disease – would the same person choose to buy, for example, a computer that consistently infuriated them or an asbestos roof that risked their own health and that of their colleagues?
#5 Invest In Thought Leadership Marketing
Thought leadership–driven marketing has real benefits—96 percent of B2B buyers want content with more input from industry thought leaders. Besides acting as a natural PR machine for your brand, content from trusted experts helps build your credibility and subtly increases the value of your product or service.
With so many channels to utilize, B2B marketing is only going to get more challenging. That's why it is so important to experiment with strategies that engage your audience in innovative ways. Traditional campaigns are passé, and they are not going to convince the new age of decision-makers—the 20- to 35-year-olds who are increasingly filling leadership roles.
To be successful as a B2B marketer today you need to bring fresh ideas to the table. There are tons of new opportunities out there, and we hope that a few of the strategies we've covered above will help you make an impact and get high-quality leads for your business.
Authorship:
https://www.marketing91.com/b2b-marketing/
https://www.b2binternational.com/publications/b2b-marketing/
https://foundationinc.co/lab/what-is-b2b-marketing/