ExpressVPN is well-established and considered one of the best Virtual Private Network (VPN) providers on the market. Based in the privacy-friendly British Virgin Islands, ExpressVPN was established in 2009 and has since been used by millions of users around the world.
20+ Useful Tools For Freelance Writers
Being a freelance writer is one of the fastest growing careers in the writing industry. The career owes this popularity to its many benefits like; no regular office routine, no daily commute, and the liberty to work from any corner of the globe.
However, if you take a look inside the world of freelance writing, you'll see that as a freelance writer you have to wear many hats. One is required to manage the existing clientele and hunt for new clients, generate ideas, research topics, administrate your business, handle finances and, with all this, produce quality writing.
So for all the harworking freelance writers out there, here is a list of 20 useful tools that can help you find new ideas, create catchy headlines, make shareable images for your blog, write without distractions, and more.
Best SEO tools for freelance writers
4. Clearscope
Clearscope is a best-in-class SEO content optimization tool that drives search traffic to your articles. They are focused on helping writers produce SEO content that doesn't suck, and matches the intent for readers so it ranks and reads well.
5. MozBar
MozBar is a free Chrome extension that makes it easy to get link metrics and see SEO data on the SERP page. It shows metrics for pages and domains you search like Domain Authority, Page Authority, and number of backlinks.
6. Ahrefs
There's a little bit of a learning curve with Ahrefs, but they have a ton of content to help you use the platform. Once you figure out how to use it, it'll become a main player in your freelance writing toolkit.
7. Keywords Everywhere
The paid version gives you accurate monthly search volumes for Google, Amazon, eBay, YouTube, DuckDuckGo, and even SEO tools like Answer The Public. You can even export your data and use it to build out a content strategy for clients.
Best writing tools for freelancers
8. Help a B2B Writer
Tired of sorting through hundreds of Help A Report Out (HARO) responses? Only to find crap quotes and sources. That's where Help A B2B Writer comes in. This free tool helps you find unique examples and expert sources for your content.
Help A B2B Writer is so easy to use too. You simply request a quote for an article you're working on. A handful of targeted, relevant sources get an email with an invitation to contribute. Then they email you their insights! Simple as that.
9. Grammarly
In short, Grammarly analyzes any text you've written and checks for errors. The free version covers basic things like grammar, punctuation, and spelling. While the premium version provides stylistic changes and provides best-in-class writing advice for your text.
Grammarly is free. You can use it forever without any limits or trial period. The free version is pretty good. But if you want all of Grammarly's features, you'll need to upgrade to Grammarly Premium, which is what I've been using for three years now and I love it.
10. ProWritingAid
Most people choose ProWritingAid over other grammar checkers (like Grammarly or Hemingway App) because it's secure. ProWritingAid is GDPR compliant and uses bank-level security. Nobody sees your (or your clients') work when you run it through their writing tool.
11. WordHippo
What would a freelance writing tool round-up be without a thesaurus recommendation? WordHippo is an online-based thesaurus with helpful vocabulary resources. You can find synonyms, antonyms, word meaning, rhyming words, and more for your articles.
12. CoSchedule Headline Analyzer
And more to help you create the best headline for your piece. You'll receive a detailed breakdown of your headline, from common and emotional words you should use. To how you can help inspire readers based on your word choice.
13. Capitalize My Title
"Another thing I use all the time that's super useful (especially if you work with clients with different style guides) is Capitalize My Title. Copy your text in, select the right style guide, and it'll capitalize it accordingly." — Nicola Scoon, freelance writer.
14. EZGIF.com
Need to format images or create GIFs for a client's article? Look no further than EZGIF.com. This free online GIF maker gives you animated GIF editing, plus editing tools to create, resize, crop, reverse, and optimize photos for the web.
15. Unpaywall
Hate when you're looking for studies and reports, only to get blocked by a paywall? So do we. That's where Unpaywall comes in. Unpaywall gives you access to scholarly articles and research that are normally pay-to-read, for free. It is integrated with thousands of library systems and search platforms worldwide so you can read research papers for free.
16. Canva
Canva is the easiest online graphic design tool. You can use it for everything from creating images for articles to designing social media posts for your brand to flyers and ads. It has an endless list of features and templates to help you create professional graphics for free.
17. Evernote
Evernote was the first (and arguably most impressive) note-taking app around. It lets you upload notes and research from around the web, organize them into folders, and access them quickly when you're writing. It has a number of cool features, one being the web clipper, which allows you easily save stuff from the internet to your dashboard. Evernote also syncs across your devices and has a browser version so you can retrieve information anywhere, anytime.
Invoicing/Money Management
You want to get paid for your hard work, so make sure you have an invoicing system in place. You'll also need to track your income and expenses to keep the IRS happy. These tools are perfect for all your accounting needs.
35. Wave
36. Shoeboxed
Do you remember shoe boxes stuffed to the brim with receipts? No wonder tax time was such a headache. Shoeboxed helps keep your receipts organized. You can scan, sort, and file receipts as they come in throughout the year.
37. Quickbooks
38. Freshbooks
Don't forget about your bank's mobile app
If your bank has a mobile app, you'll want to install it on your smartphone. You'll reduce the number of times you need to go to the bank. With most mobile banking apps, you'll be able to:
Time Trackers
If you don't know how long it takes you to write a blog post, magazine article, or copy for a website, you should. Knowing how much time you spend helps you ensure your writing gigs are really worth the money. It's also info you need to determine your hourly rate.
Try one of these time trackers and make sure how long you think it takes to complete a project matches up with how long it actually takes. (Note: You can also use these to track time for clients, if you're charging an hourly rate.)
39. AND CO
40. Toggl
Toggl helps you create time estimates for projects, and alerts you when you're close to your estimate. You can also edit your time and add time manually, which is helpful for freelancing tasks when you're not at the computer.
41. Harvest
Sources:
https://www.hongkiat.com/blog/tools-for-freelance-writers/
https://peakfreelance.com/blog/freelance-writing-tools/
https://makealivingwriting.com/apps-and-tools-writing-life/
Freelance writing tools
It allows you to capture ideas via images, PDFs, URLs, videos, or voice notes and turn them into projects and tasks by assigning due dates, sharing them with other team members, and linking them with bigger goals.
The Best Writing Tools For Becoming a Freelance Writer
1). Hemingway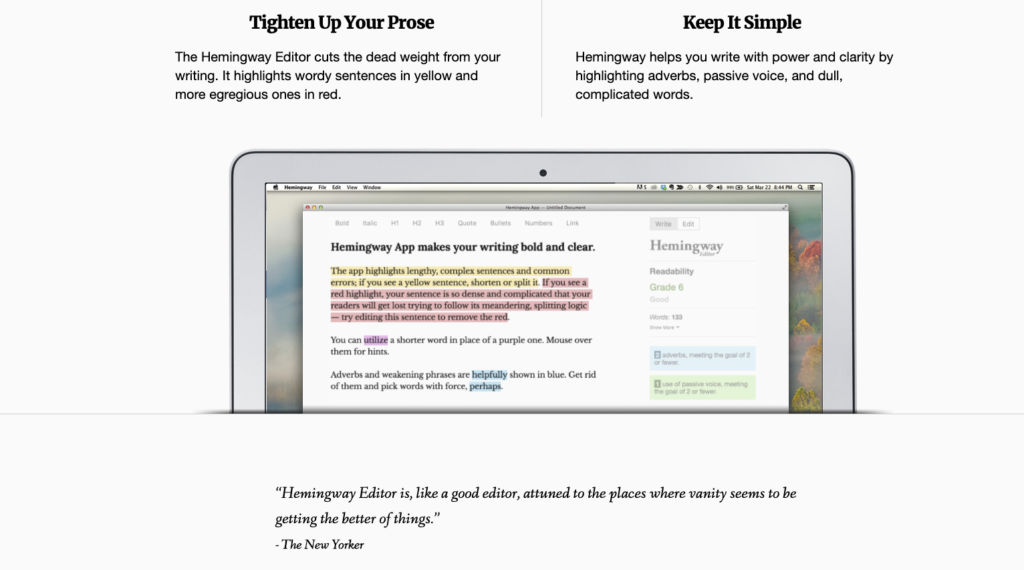 I've heard tons of writers swear by the Hemingway App . It's a simple tool for cutting the bad from your writing and tightening up your message. You can also get a desktop version for distraction-free (i.e. no WiFi) writing.
Key Features:
Pros:
Cons:
Pricing:
2). Scrivener

I was first introduced to Scrivener by Lise Cartwright who uses it to write Kindle books. Since she has about a billion of them, I listened. Scrivener is a monster writing tool that allows you to keep everything from research to outlines all in one place. PC Magazine rates it as the number one writing app on the market.
Key Features:
Pros:
Cons:
Pricing:
With Scrivner, you purchase a one-time license. The standard rate is $49.00 and a discounted $41.65 is available for educational licenses. Minor updates are free but major version upgrades do have additional fees.
3). 750 Words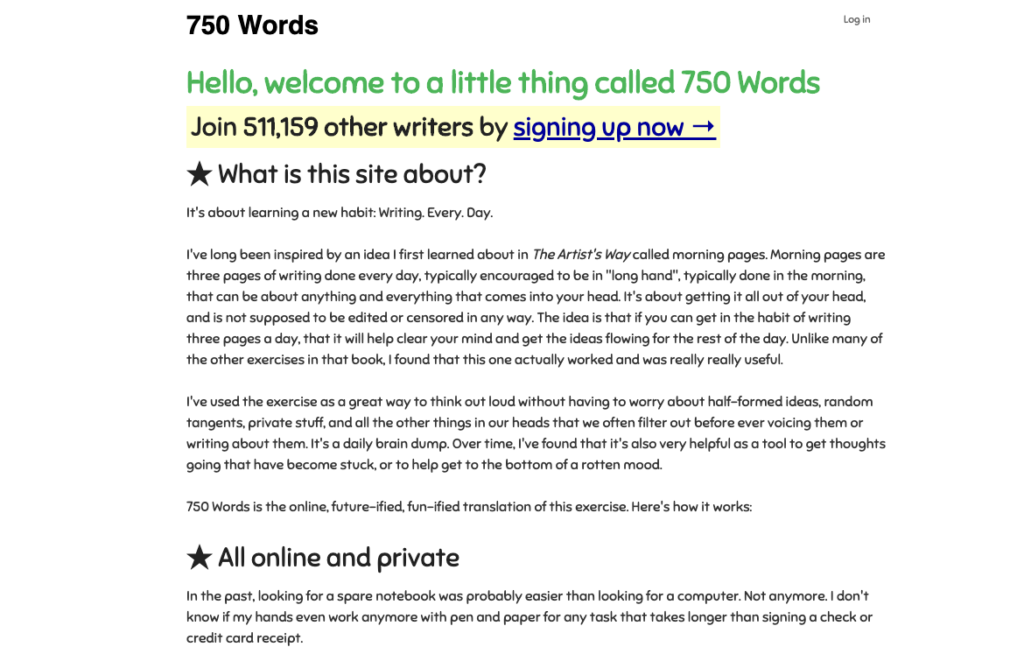 If you struggle to write much at all but want to form a daily writing habit that's manageable, check out 750 Words . What I like about it is the gamification aspect, it gives you points for writing, plus tracks everything.
Key Features:
Pros:
Cons:
Pricing:
4). Blank Slate
Sometimes, you just want to jot down ideas quickly. Nothing fancy, no bells and whistles. In that case, Blank Slate is the tool for you. With a clean and super simple interface, you can find a spot to get your notes, ideas, and outlines down.
Key Features:
Pros:
Cons:
Pricing:
5). Otter.ai
The last thing you want to worry about when you're conducting an interview is to find out the recording crapped out halfway through. That's where Otter.ai helps. It's an easy way to record interviews and notes and it has a built-in AI that will transcribe your conversation too.
Key Features:
Pros:
Cons:
Pricing:
The basic plan offers 600 minutes of recording a month for free. The Pro plan is $13 a month and allows up to 6,000 minutes of recording in 4 hour blocks. The Business plan is $30 per user per month and has all the features of the Pro plan plus additional business features.
6). Write or Die

Basically, you set a word limit, a time limit, and if you want a consequence, reward, or stimulus, and then you're off to the races. If you don't hit your word count at the time limit, the Write or Die will let you know (loudly).
Key Features:
Pros:
Cons:
Pricing:
7). Reedsy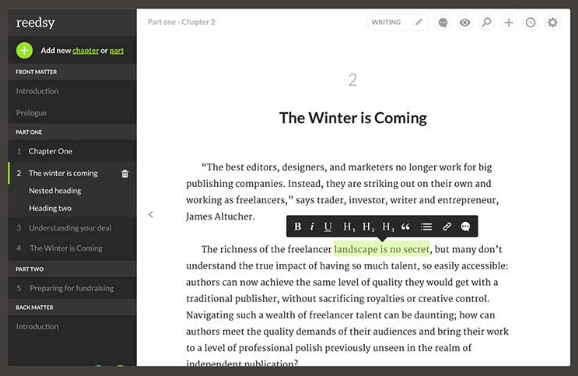 For authors who are looking to self-publish but want a tool that's a bit more user friendly than Scrivner, Reedsy is a great choice. It helps with the formatting and conversion of documents. You can export your manuscript directly to ePub and Kindle ready formats with just a few clicks of a button.
Key Features:
Pros:
Cons:
Pricing:
8). Google Docs
This one is obvious. A lot of people don't think about using Google Docs for writing practice, but it makes sense. Google Docs is a free writing tool. It's also easy to use and can be accessed from pretty much everywhere.
The Best Visual Content Tools For Freelance Writers
6. Greenshot
I've captured all the screenshots in this article using Greenshot, my favorite screenshot tool. It's a free product that silently runs in the background on your PC and captures screenshots when you press the Print Screen key on your keyboard.
Greenshot Pros
Greenshot cons
7. CloudApp
CloudApp Pros
CloudApp cons
8. Canva
Canva is my favorite tool for creating high-quality images for my blog and social media profiles. It's a user-friendly application with a drag & drop interface that allows you to make any kind of image for your blog or social media.
Its free version has more than 250,000 templates for blog images, social media profiles, cover photos, infographics, etc. Plus, it offers thousands of free stock photos and graphical elements you can drag & drop in your images.
I often use it to convert dry data and numbers into attractive images and infographics for my clients (even when they don't ask for them.) It makes my content look more professional and makes my clients happy because they feel they're getting a good deal.
Canva Pros
Canva cons
9. Visme
But sometimes, when I can't find the image templates I'm looking for, I check Visme for more options. It's similar to Canva and has thousands of high-quality templates, infographics, and blog and social media images.
Visme Pros
Visme cons
Best books for freelance writers
The Content Fuel Framework by Melanie Deziel – a genius framework for generating content ideas. It's based on 10 focuses (like people, process, examples, data) and 10 formats (like writing, video, timeline, and map) which can help you generate 100+ ideas when combined.
10x Marketing Formula by Garrett Moon (CoSchedule's CEO) – see the process that helped CoSchedule grow a truly uncopyable content operation—one that now has millions of pageviews a month and thousands of customers in 100+ countries. The book is engaging and organized well.
Obviously Awesome by April Dunford – not a book on marketing, but on product positioning. Deserves this mention because when you learn where your product fits on the market and the exact difference it makes for your customers, you can market it better. It's an easy, immediately applicable read.
The Creative Curve by Allen Gannett – if you always thought that great ideas happen thanks to a strike of genius/pure luck, this is the book for you. See the science behind breakout success in dozens of fields. This book will leave you entertained and inspired to take purposeful action.
Break the Wheel by Jay Acunzo – tired of 'best practices' and generic, trendy advice? This book shares real examples of exceptional work and six fundamental questions that lead to making best possible decisions. Jay is one of my favorite people when it comes to creativity and building a business on your own terms.
Made to Stick by Chip and Dan Heath – this book unpacks the reasons why some ideas stick around for decades, while others stand zero chance of making it even a week. Full of examples and practical applications of storytelling, emotions, simplicity, and more.
Atomic Habits by James Clear – aproven, four-step approach to developing good habits and getting rid of bad ones. My favorite part? No big, swooping changes needed. This book shows you how to take tiny steps to develop systems instead of goals, and stop relying on motivation and willpower to improve your work and life.
Deep Work by Cal Newport – ever heard me say that long writing stretches are best, and that we can realistically do that only for about four hours per day? This is the book where I learned that. This is the book if you want to create deep focus so you can write exceptional content every day.
Essentialism by Greg McKeown – essentialism is about doing less, but better. If you feel stretched too thin, overworked but unfulfilled, and like your days are slipping away in a sea of tasks, I highly recommend this book. One of the best things I learned from it is to say 'no' more often.
Getting Things Done by David Allen – for me, this is the go-to system for 'stress-free productivity' because it relies on different inboxes and strategies to process items in those inboxes so I can get things done. If you seem to hold too many things in your head at any one time, this book is for you.
Indistractable by Nir Eyal – the author says that being indistractable is "finally doing what you say you will do." This book will help you understand internal and external triggers and distractions so you can make time for traction in important areas of your work and life.
Sources:
https://www.locationrebel.com/writing-tools/
https://www.writingmydestiny.com/best-freelance-writing-tools/
https://freelancebold.com/tools
Freelance writing tools
With organizations wanting to integrate independent writers into their marketing operations and internal product teams, there are vast opportunities for new freelance writers. You may even be eager to pursue this mode of making a living.
AP Style Remains en Vogue
Long the style bible for journalists and public relations professionals, The Associated Press Stylebook has in recent years been adopted by numerous industries, educational institutions, government entities and other organizations as their in-house guide for content consistency and clarity.
Why? The AP Stylebook is accessible, concise and well-organized. AP style emphasizes straightforward language, and many of its standards — such as those relative to numeric functions — apply more naturally to web-based content than academic guides like The Chicago Manual of Style.
The AP Stylebook is further distinguished by detailed sections on punctuation, media law, business-writing principles and social media guidelines. AP style is also continuously updated to reflect current linguistic trends and the appropriate use of descriptive terms.
Of course, freelancers should defer to their clients' preferred style guides, but if one isn't provided or specified, The AP Stylebook is a solid foundation for consistency. Oscar Wilde may have believed consistency "the last refuge of the unimaginative," but style uniformity offers familiarity and precision, and it is critical to effective content marketing .
Grammar's Cool
Even if you remember all the grammar-school rules about the likes of apostrophes, comma splices and sentence fragments, it's — or its? — easy to make simple syntax mistakes over the course of writing a 1,000-word blog.
These blunders are often overlooked when freelance writers edit their — or there or they're? — own work and read what they meant rather than what actually ended up in print. Most document-processing applications have built-in, if limited, spelling and grammar checkers.
Freelance writers (and freelance editors) seeking a backup assessment of grammar and readability may want to use a more in-depth resource. Grammarly , which utilizes artificial intelligence to identify grammatical errors and imprecise language, and make suggested replacements, has emerged as the most popular digital text assistant.
Unlike the English language, Grammarly's interface is idiot-proof. The platform is also fast and available in a free version. Other solid grammar-checking applications include Hemingway , Linguix and Outwrite , which offer varying levels of additional writing and editorial tools under their free and paid services.
Beware that while these programs are generally reliable, their suggestions aren't always on point with the most readable usage or a writer's linguistic intent. Passive voice, for example, can be purposefully employed, but most grammar-guidance platforms flag passive verbiage by default.
The 6 best resources for every freelance writer
Pursuing a career as a freelance writer can feel overwhelming. You may always feel like you're hustling. There might also be many things to keep track of and no one else but you to keep yourself motivated during the inevitable rough patches. Fortunately, several tools can simplify the problems you'll face.
By taking advantage of some of these tools, you'll give yourself a leg up over your competition and increase your chances of landing the top clients. The following sections offer six types of writing resources that you should have at your disposal when you take the leap toward freelancing.
1. Organization tools
A good way to make sure that you're meeting your goals is to use tools to help you out. Tools like Trello can help you keep track of your schedule, projects, and productivity. You can even add your client as a collaborator on a project so that they can stay up to date with everything going on with it. You may even work with other team members on work management platforms like Asana if the client adds you to any virtual workspaces.

2. Writing advice sites and online communities
Being successful as a freelance writer isn't always about your writing. It's important to know your fellow writers and how the business works. There are plenty of blogs, websites, and communities that can help you find the right clients, pitch articles, or secure content marketing work.
Websites like ProBlogger, The Write Life, and Elna Cain can provide insight into creating, publishing, and selling quality content. Online freelance writing communities like Freelance Writers Den can offer support, or you can look for groups on social media sites like Facebook and LinkedIn. You can even try posting on message boards on sites like Reddit.
3. Editing tools
Nothing causes a business to view you as an amateur quicker than grammar mistakes. If you're going to make a living writing, your grammar must be exceptional, if not perfect. However, time is money, and carefully proofreading and scrutinizing every article for spelling and punctuation can take ages.

Software like Grammarly and ProWritingAid can do it for you. Tools like these will identify errors in your work and suggest solutions, saving you a lot of time. Some, like Grammarly, will even offer ways to make your writing easier to read. ‍
4. CMS platforms and social media marketing tools
As a freelancer, your portfolio is even more important than your resume. Clients want to see writing samples that prove you can handle their work. The best place to display your portfolio is on an attractive website. But as an independent writer, you may not have the budget to hire a website developer or the coding skills to create your own.

A content management system (CMS) platform—like Squarespace, WordPress, or Wix—allows you to make a professional website without programming skills. CMS platforms offer several designs and templates that make it easy to make your portfolio appealing to potential clients.

After you've created your website, you'll have to market it to bring in visitors. You can purchase paid ads on sites like Facebook, Google, and Instagram, or you can use sites like Social Jukebox or Hootsuite to manage your social media posts to target your audience. ‍
5. Online training courses
When it comes to freelance writing, the more skills you have, the better. Strong writing isn't the only thing clients look for. Skills like SEO and Photoshop can improve your chances of landing work. There are also various types of writing, like blogging, copywriting, and technical writing. A good freelancer should always be learning.

There are plenty of inexpensive or even free ways to learn new skills online. YouTube has a great collection of videos that can teach you just about anything. You can also take courses and tutorials on websites like Coursera, Udemy, or Skillshare on a wide array of subjects. ‍
6. Accounting tools
You're a writer, not an accountant, and the process of accounting probably doesn't interest you. Unfortunately, bookkeeping is a vital part of making sure you get paid. You'll need to create documents like bids, invoices, and receipts for your clients. You'll also need to keep track of which clients have paid and how much you should be putting aside for taxes.

Software options like FreshBooks and QuickBooks can help you keep up with all of your accounting. Template websites also let you easily create and manage your accounting documents. However, an easier option is to use Upwork, which records all payments and creates invoices, guaranteeing you get paid for your work.
Find content writing opportunities on Upwork
Working as a freelancer can be liberating, but it can also be a lot of work. If you want to be a successful freelance writer, you need to stay on top of every aspect of your small business. Luckily, there are great resources that can make managing your workload easier.

Upwork is another great way to get the ball rolling on your freelance writing career. We help you showcase your skills to clients from all over the world, matching you with the best opportunities for your situation.
Upwork is not affiliated with and does not sponsor or endorse any of the tools or services discussed in this section. These tools and services are provided only as potential options, and each reader and company should take the time needed to adequately analyze and determine the tools or services that would best fit their specific needs and situation.
Free Download
The Ultimate Guide to Blogging for Small Business
#1. The Purdue Writing Lab
In this awesome resource, you'll find a series of informational articles and books on the correct usage of the English language. It'll help you greatly to update your know-how of writing, and how to do it effortlessly.
#2. The Elements Of Style
#3. Guide to Grammar and Writing
#4. Copywriting 101
Copywriting is a specialty most freelance writers want to delve into. Not only is it lucrative, it's also compelling and revealing. No doubt about it, if you're damn good at copywriting, you become highly sought after by clients.
#5. Grammar Girl
This awesome web resource by Mignon Fogarty is your "go-to" website which contains resources and materials on the correct use of grammar. One amazing feature of this resource is that the founder uses humor and everyday examples to drive home her points.
#6. Daily Grammar
Turbocharge your productivity and output
A typical day in your life as a freelance writer involves writing articles for clients, prospecting to new clients, following latest industry trends, reaching out on social media platforms, hanging out with colleagues, and so many more.
#31. Stay Focused App
Sometimes, you'd have planned how you want to spend your time writing that client's article, only to find out hours later that you're either checking out celebrities on Instagram, chatting on Facebook, or trolling on Twitter.
#32. Zen Pen
#33. Cold Turkey
#34. Todoist
#35. Marina Timer
Sources:
https://powerpublish.io/blog/the-writer-stuff-must-have-tools-for-content-freelancers/
https://www.upwork.com/resources/essential-resources-for-freelance-writers
https://www.jeffbullas.com/resources-for-freelance-writers/